APKT-1003 PDR HM 10pc Carbide Insert Milling Square Shoulder Grade CM14 C5 Steel
10pc carbide insert Made in USA.
85 degree parallelogram milling carbide insert suggest for light cutting of steel and cast iron at high speed machinist operation in manual milling machines or cnc machine centers.
FEATURES APKT COATING CM14 Grade
Cobra Carbide CM14 grade Coating Insert. Multi Layer coating TiN/TiC/TiCN/TiN for turning and milling carbon and alloy steels and tools steel. Provides longer tool life than uncoated grades. C-5 carbide is typically used for cutters that will be machining steel as it has a greater resistance.
APKT-1003 PDR-HM Dimension and geometry inch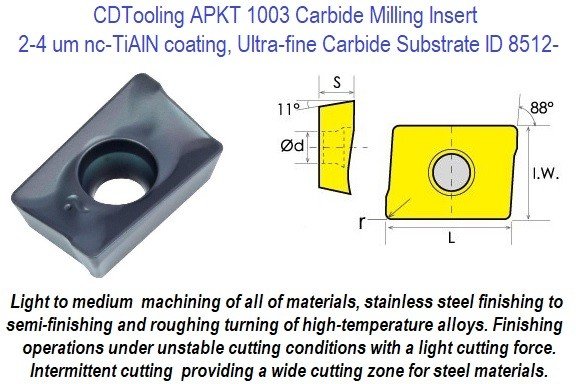 IC 0.441
IW 0.264
Radius (r) 0.020
Size Hole (d) 0.110
Comparative with iscar APKT 1003 HM90 this insert can used similar helical cuttings with good performance cutting
Carbide insert APKT
AP carbide insert geometry is ideal for milling square with medium speed and feeds. Manufacture for all value brands Sandvik, Kennametal, Iscar, Korloy, Tungaloy, Mitsubishi, Seco, YG and many factories in China.